United in their Passion for Art
MAUD FRANKLIN AND HER DEDICATION TO JAMES ABBOTT MCNEILL WHISTLER
James Abbott McNeill Whistler's complicated relationship with his mistress and model Maud Franklin (9 January 1857–1941) provides the basis for many of his paintings.
Maud began posing for Whistler at the age of 15. By the late 1870s she was serving as a model to Whistler for etchings and painted portraits. The most famous is the Arrangement in white and black.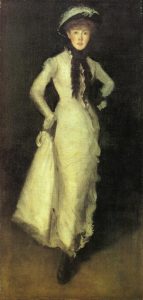 A  CREATIVE LOVE AFFAIR BETWEEN MAUD FRANKLIN AND JAMES ABBOTT MCNEILL WHISTLER
They had two daughters together and although they never married, Maud referred to herself as "Mrs. Mary M. Whistler". She was also an artist herself. Due to the fact they never married, Maud was excluded from society.
She also was the initial model for what would be the Portrait of Miss Florence Leyland, as well as Harmony in Grey and Peach Colour, numerous other oils, drawings, watercolors, etchings, and lithographs.
Whistler and Maud's relationship began to struggle in 1879, when the artist went bankrupt and was forced to face reality.
Whistler's treatment of Maud was terrible.  When she was pregnant with his child he left her alone in a hotel in London without telling her where he was. She was left in a state of despair. Whistler ultimately went bankrupt and even though she was treated so cruelly she supported Whistler for several more years. At that time they lived in Venice where Maud suffered poor health and rejection by society.
Unexpectedly  in 1888, James Whistler married another woman, Beatrice Godwin, which was devastating to Maud.  Heartbroken she moved to Paris where she married twice. She refused to speak ever again about Whistler.
Maud attended his funeral in London in 1903. She had traveled all the way from Paris to pay her respects.She expressed her grief very openly.  Whistler was the love of her life and she had never forgotten about him although she moved on and never contacted him again during his life.
Monique Lucy Weberink, December 2016